1790 - Launch of the 'Jessie'
The first recorded ship launch from the Newark Yard.
1903 - Ferguson Shipbuilders Formed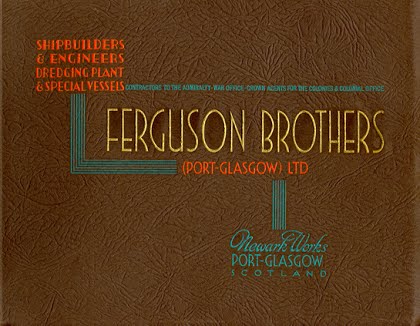 Brothers, Peter, Daniel, Louis and Robert Ferguson leave the family shipyard, Fleming & Ferguson in Paisley, to take the Newark yard in Port Glasgow and form Ferguson Shipbuilders.
1903 - A Good Start
The yard secures its first contract to construct two steam tugs.
1903 - Flying Swift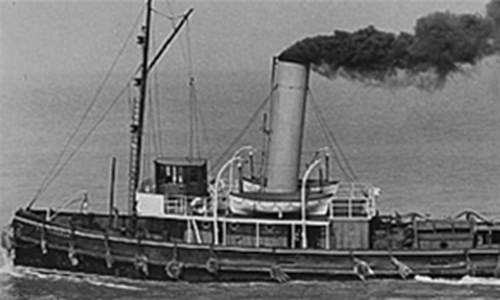 The first of eleven Diesel Kort Nozzle tugs built for Clyde Shipping Company between 1903 and 1962.
1904 - Sir Harry Bullard
Sir Harry Bullard, the company's first Dredger Bucket Hopper, was launched by Ferguson Brothers.
1904 - TS Steam Tug, Fraserville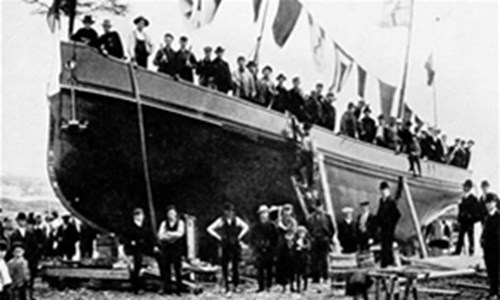 Built for export to Canada.
1907 - Canterbury Tug
The Canterbury tug was launched which is still in service today. British yards were recognised as centres of shipbuilding excellence which is why the contract was awarded to Ferguson Brother's with the vessel then travelling over 12,000 miles under her own steam to arrive at her home port in New Zealand.
1910 - Continued Business
Ferguson Brothers delivered on 3 tugs and 7 hopper barges for the Port of London Authority.
1910 - Drawing Room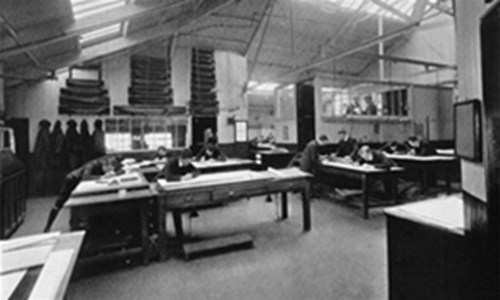 The early drawing office which gave way to a new facility with just over 60 draughtsmen. 
1913 - Lugwig Wiener
2400 IHP steam tug, 'Lugwig Wiener' was launched in August complete with wireless telegraphy and submarine signalling and utilised in the First World War.
1915 - New Premises
In April, new offices and a 60m machine shop were constructed by McBride of Port Glasgow and completed in October.
1917 - Royal Recognition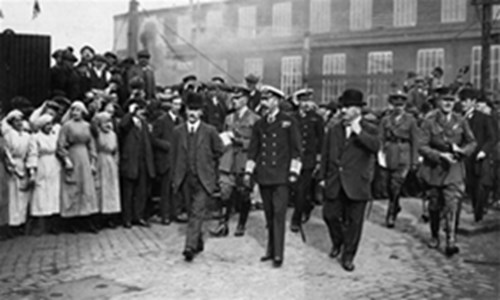 Royal recognition and great excitement for Ferguson Brothers and Port Glasgow when King George V visits the yard.
1922 - International Work
Launch of the company's first cutter hopper suction dredger. Built to the order of the High Commissioner for the Union of South Africa, taking 4 years to build.
1922 - Continued Work to 1929
Yard constructed a number of tugs, dredgers, hopper barges and cargo vessels. In 1927, a twin salvage vessel was built which sailed for Perim Island in October, having 72 tonnes of portable salvage gear and girders and a bunker capacity of 200 tonnes.
1928 - Double S/Ladder Dredger, Bulldog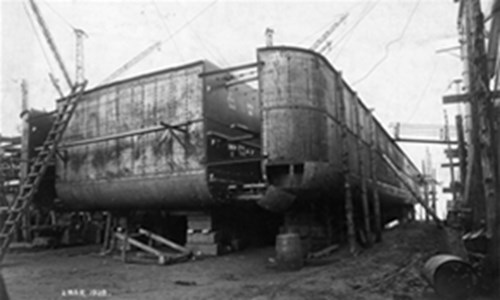 Built for the London Midland & Scottish Railway Company.
1929 - Royal Research Vessel, Discovery II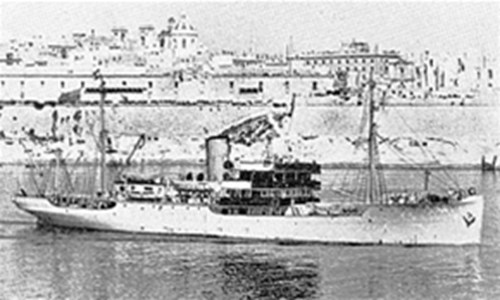 Built for the Falkland Islands.  The first ever ship to circumnavigate Antarctica in winter and responsible for the rescue of two sets of Antarctic explorer.
1930 - Machine Shop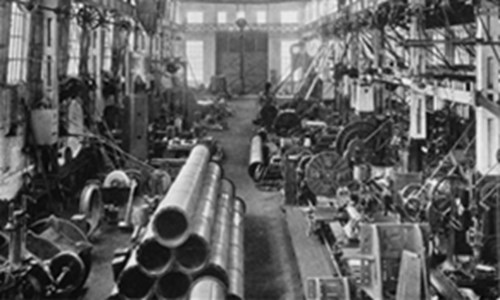 The Ferguson Brothers Machine Shop in its heyday.
1933 - Mancunium
First sludge vessel, "Mancunium" was launched.
1935 - Passenger Cargo Vessel
Work began on "Pomeroon", a passenger cargo vessel with it's trials in January 1936. The yard then built the two sister vessels, "Lady Northcote" and "Barima."
1939 - World War 2
Ferguson Brothers makes a fantastic contribution to the World War II effort, building no less than 30 ships over seven years, including tunnel tugs, minesweepers, corvettes, Turkish ferries and boom defence vessels. The firm was the leading builders and designers for hull and machinery of the "Sir David Hunter" class and 6 rescue class tugs.
1939 - Naval Trawler T213
Just one of an amazing 30 shops built for the Admiralty during the second World War.
1944 - SS Steam Rescue Vessel
HMS Empire Rest, just one of 30 ships which comprised Ferguson's contribution to the Second World War effort.
1946 - Empire Sorcerer
The "Empire Sorcerer" was launched in February, a unique twice screw, bow-well, combined trailing and suction cutting hopper dredger designed to load 2000 tons per hour for service in the tropics.
1952 - Diesel Electric Barge
The company built a diesel electric power barge, "GP 2", for oil drilling operations in Venezuela. This was the first of its type to be built in the UK.
1952 - Wyuna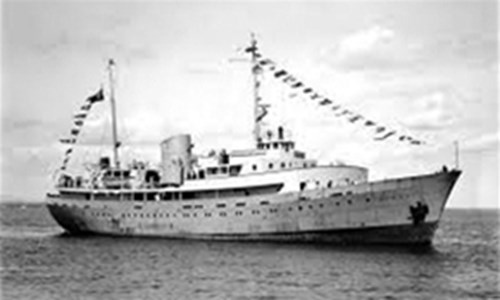 Diesel Electric Pilot Vessel, Wyuna.  Built for the Port Philip Sea Pilots Association to work the entrance to Port Philip Bay in Melbourne, Australia.
1955 - Loch Ard
Lady Cameron, wife of Sir John Cameron, a director of David MacBrayne & Co., named and launched motor ship "Loch Ard."
1958 - Mensa Sarbah
Fergusons' had the distinction of launching the first vessel for the new state of Ghana, formally the Gold Coast, a twin screw steam tug named "Mensah Sarbah."
1958 - Shipbuilding on the Clyde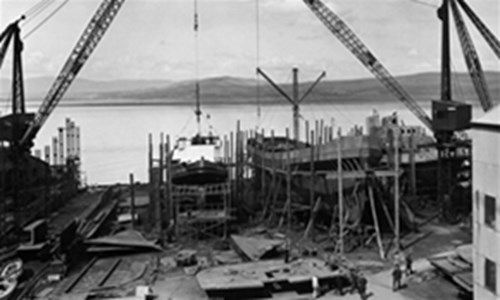 Shipbuilding on the Clyde in the 50's and 60's was slow to change, which allowed the new yards in the Far East and Europe to make a big inroads to the world market.
1961 - Lithgow Limited
1964 - Dredger Builder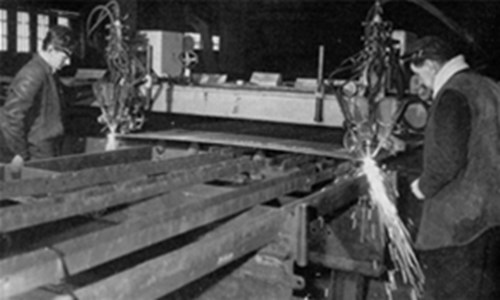 Burners Louis Curran and Tommy Hanvey cutting plates for a bucket Dredger.
1966 - Baglan
The first of three diesel electric twin screw, with twin side pipes, trailing suction hopper dredgers for the British Transport Docks Board, "Baglan", was named and launched in May.
1970 - Marinex V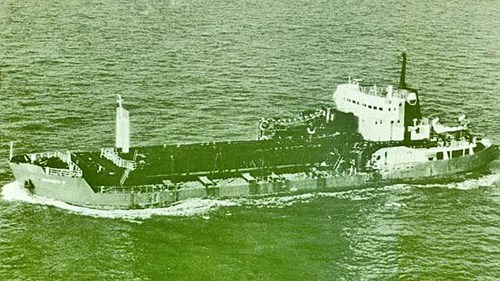 The "Marinex V", a £1m suction hopper gravel dredger and could dredge to a depth of 46m was launched.
1977 - Nationalised
The yard is nationalised and subsumed into British Shipbuilders.
1980 - Merger
Ferguson Brothers merged with the Ailsa shipyard in Troon to form Ferguson-Ailsa Limited.
1986 - Privatisation
The grouping is split and re-privatised with Ferguson's once again in control of its own destiny.
1989 - Ferguson Shipbuilders
Three years later, the yard is acquired by Greenock-based engineering firm Clark Kincaid and starts trading as Ferguson Shipbuilders.
1990 - Acquired by Kvaerner
Clark Kincaid itself is acquired by Kvaerner and becomes Kvaerner Kincaid.
1991 - Back to Ferguson
Ferguson Shipbuilders Ltd. is sold by Kvaerner to Ferguson Marine plc.
1992 - Queen Visits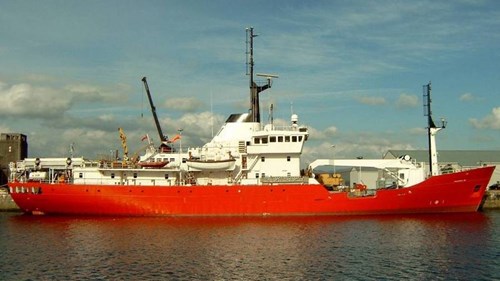 More excitement - as The Queen visits Port Glasgow and launches MV Pharos for The Northern Lighthouse Board.
1995 - Twenty Years of Work
An unbroken run of almost twenty years shipbuilding with many prestigious contracts including multi-million pound ferries for Caledonian MacBrayne, a roll on/roll off terminal for Western ferries, patrol vessels for the Fisheries Protection Agency, aircraft carrier modules and dredgers.
1995 - Holland House Electrial Group
Ferguson Marine is acquired by the Holland House Electrical Group.
2000 - Queen Visits Again
The Queen returns to launch the impressive MV Hebrides for Caledonian McBrayne.
2011 - World's First Hybrid-Powered Ferries
In the face of strong competition from European shipbuilders, Ferguson's win the £22m contract to build the world's first hybrid-powered ferries, creating around 100 new jobs and putting down its marker for marine innovation.
2012 - MV Hallaig
The launch of MV Hallaig, the first of the two pioneering hybrid ferries.
2013 - World's First Hybrid Ferry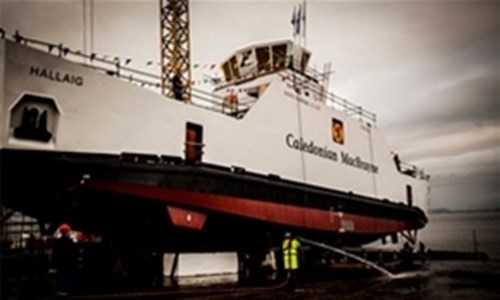 Built for CMAL and operated by Caledonian MacBrayne, the MV Hallaig was the world's first Hybrid Ferry and operating on a low-carbon combination of diesel electric and lithium ion battery power.
2014 - Second Hybrid Ferry, MV Lochinvar, Successfully Launched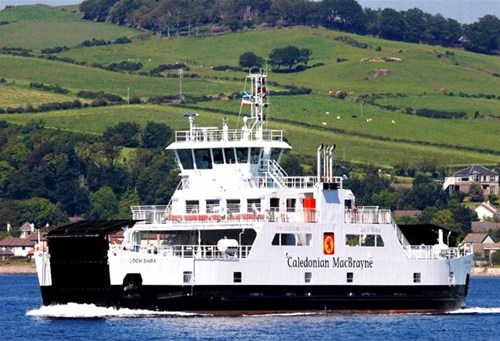 2014 - Ferguson Enters Administration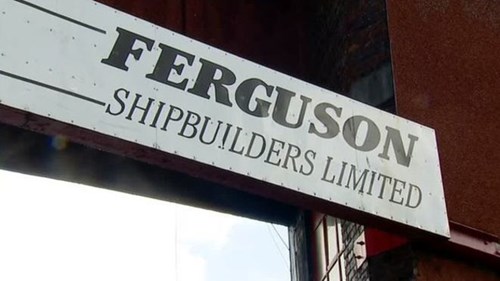 Despite leading the world with the Hybrid Ferry concept, a lack of long term investment in the yard and the general decline of commercial shipbuilding on the Clyde finally catch up with Ferguson's and the company goes into administration.
2014 - Shipyard Saved by Clyde Blowers Capital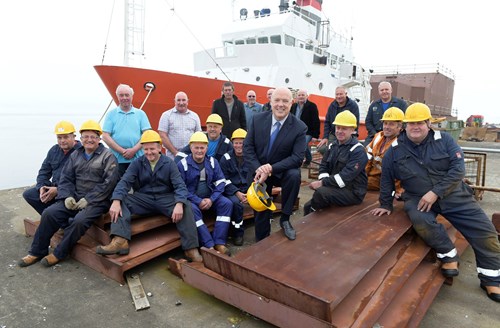 Clyde Blowers Capital, led by entrepreneur, Jim McColl OBE, steps in to buy the company, renaming it Ferguson Marine Engineering Ltd, saving almost 100 jobs and bringing to an immediate halt the loss of the last shipbuilders on the Clyde.
2014 - Third Hybrid Contract Won
The new and revitalised Ferguson Marine wins the Scottish Government contract for a third hybrid ferry for Caledonian MacBrayne.
2015 - New Investment
Clyde Blowers Capital invested an initial £12 million in the shipyard and its new management team, aiming to grow the workforce to over 400.
2015 - Landmark Contract Secured
Ferguson Marine are awarded the £97 million (USD 150 million) contract to build two 100-metre, dual-fuel ferries for CMAL, securing the immediate future of the yard and confirming projected growth of the workforce to 400 by the end of 2016.
2015 - Launch of the MV Catriona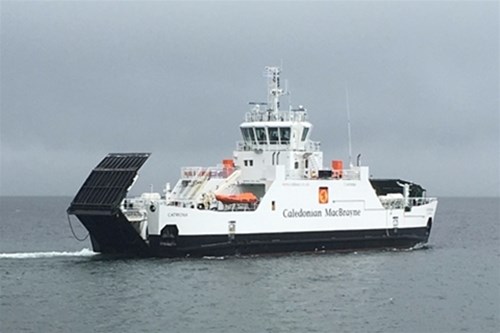 Launch of the MV Catriona, the third Hybrid ferry for CMAL, marking the end of traditional 'build, launch and fit-out' shipbuilding at the yard. From this point, all vessels will be built and totally fitted out in sections, under cover in the new shed complex as part of the £12 million development scheme.
2016 - MV Catriona Delivered Ahead of Schedule
Ferguson Marine Engineering delivered "MV Catriona" to Caledonian Maritime Assets Ltd. (CMAL), 6 weeks ahead of schedule in September, 2016.
2017 - Successful Launch of the MV Glen Sannox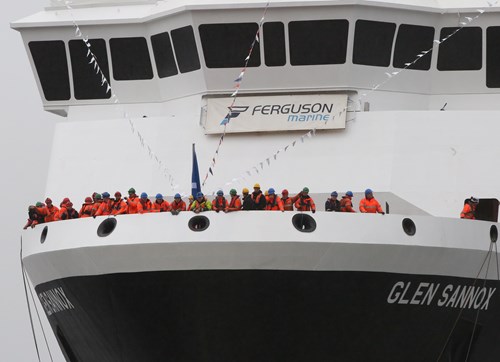 Successfully launched the MV Glen Sannox on Tuesday 21st November at the Ferguson shipyard in Port Glasgow by First Minister, Nicola Sturgeon.
This environmentally-friendly, vehicle passenger ferry is the first of two vessels which are the first LNG fuelled ferries designed and constructed in the UK, demonstrating Ferguson's cutting-edge design and building capabilities.
2017 - New Office Facility Opened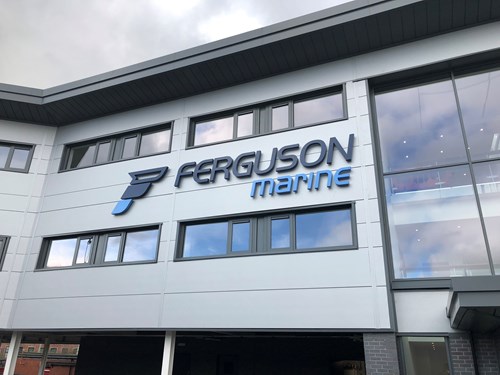 As part of a £25 million investment, a new state-of-the-art office facility was officially opened in Port Glasgow.
2018 - Funding Secured to Develop World's First Renewables-Powered Hydrogen Ferry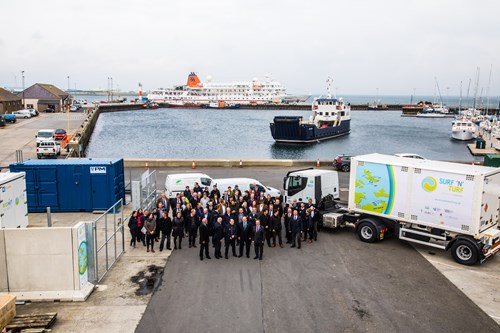 Successfully led a European consortium in a bid for EU funding support to pave the way for the building and launch of the world's first sea-going car and passenger ferry fuelled by Hydrogen.
2019 - August 2019 - Yard enters Administration
Ferguson Marine Engineering Ltd led by entrepreneur, Jim McColl OBE, enters administration.
2019 - December 2019 - Ferguson Marine Nationalisation
The shipyard was taken into public ownership by the Scottish Government in December 2019 and now trades as Ferguson Marine (Port Glasgow) Limited.
2020 - June 2020 - Appointment of Board of Directors
Appointed by the Cabinet Secretary for Economy, Fair Work and Culture, the Board will bring a wealth of diverse and extensive experience to the business. They will work closely with the management team in Ferguson's to deliver a sustainable future for commercial shipbuilding on the lower Clyde.
2020 - June 2020 - Launch of Air Cushioned Barge
Ferguson Marine (Port Glasgow) Ltd and CMI Offshore Ltd are pleased to announce the successful launch of the Air Cushion Barge (ACB) from the Ferguson shipyard at Port Glasgow. The 55m x 24m barge, which will be completed and outfitted in the Caspian Sea, includes an extensive suite of lift fans, air propulsion, marine propulsion modules, and specialist rubber skirting. On its commissioning the unit will be the first self-propelled ACB built and will be capable of carrying up to a 150t payload over tundra, swamps, ice and water and will be used to provide support to the oil industry in the shallow waters of the Caspian Sea.
2020 - August 2020 - MV Glen Sannox bulbous bow removed
Ferguson Marine (Port Glasgow) Ltd has hailed the removal and replacement of MV Glen Sannox's bulbous bow another key milestone in progressing the first of two dual fuel vessels towards completion.
Following the ferry's move to dry dock in Greenock, the bulbous bow - the protruding bulb at the front of a ship which modifies the way water flows around the hull - has been removed by engineers.
2020 - October 2020 - Tower Crane Investment
The tower crane at Ferguson Marine (Port Glasgow) shipyard, a well-known landmark on the Port Glasgow skyline, is being removed to make way for a new one.
Ferguson is investing more than £500,000 in a new tower crane to support the future growth of the business.
The existing tower crane, which has stood in the shipyard for 37 years, has reached the end of its serviceable life and is being demolished to make way for a bigger and better version.
2021 - March 2021 - Shipyard launches new vessel for Scotland's fish farming sector
Ferguson Marine (Port Glasgow) has marked another milestone in its recovery with the launch of an innovative 26-metre workboat for Scotland's fish farming sector.
Hull 805, which was officially named Kallista Helen, is being built by Ferguson for Inverlussa Marine Services, a Mull-based workboat operator which serves Scotland's growing aquaculture sector.  The vessel will operate on the west coast of Scotland and around the Northern Isles on a long-term charter to Scottish Sea Farms, one of Scotland's leading producers of salmon. 
The launch marks a first for Clyde shipbuilding by using large inflatable marine airbags and a rolling motion to move the vessel into water.  An airbag launch was considered safer and more cost effective for this vessel.